Xl Biodegradable Wipes For Sale In The UK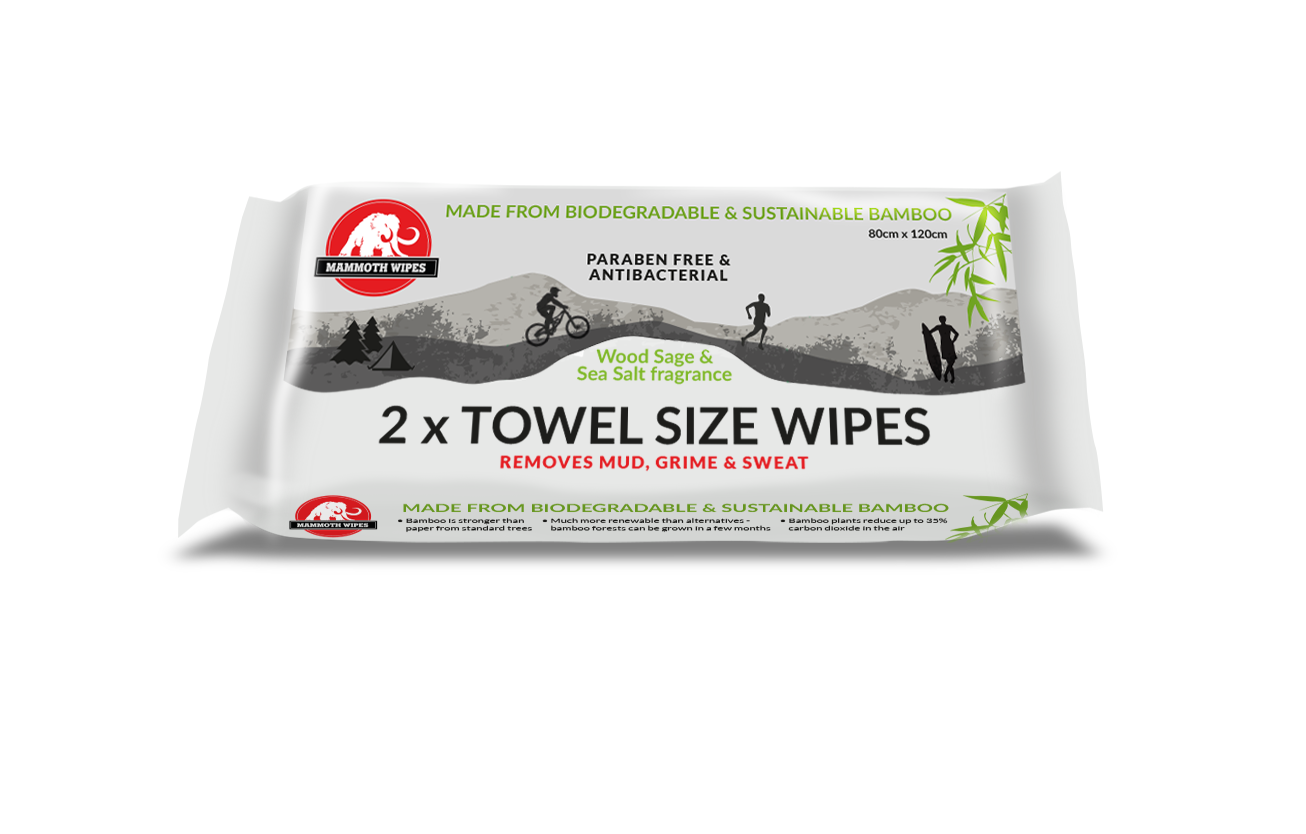 What Is A Biodegradable Mammoth Wipe? 
Mammoth wipes are sustainable towel sized wipes, the wipes' purpose is to be kinder to the environment, whilst being larger and more powerful than standard wipes. They are biodegradable, antibacterial and sustainable. The price ranges from £4.99-£39.99 and they can be purchased via apple pay or card through the website. Mammoth wipes have a rating of 5 stars! Mammoth wipes can be used for motor sports, sports events, beach events, camping, festivals and much more, making them multi-purpose. Mammoth offers global shipping, offering environmental friendliness all over the world!
Looking For Cleansing Body Wipes? 
Each wipe contains a water based antibacterial, the liquid also has a wild wood-sage and sea salt scent and natural ingredients making it smooth and soft on the skin leaving a refreshed feeling. The scent and moisture the wipes contain make using them pleasant and enjoyable, rather than dry and leaving the usual strong smell of wipes.
They can be used for many purposes, such as: camping, sports, travelling, exercise, care of the elederly and children, cycling, and more! Each wipe is 1.2 x 0.8 Mtrs, allowing them to clean up large messes and surfaces,however they are kept in a small and compact packet allowing them to be taken on the go to places, without worry of where to store them.
These wipes are wonderful in helping protect sensitive skin due to their natural, soft, safe ingredients and materials used during the manufacturing process. They are suitable for adults, elderly, children and babies, giving them endless uses on all different types of skin and ages. Over 40% of the UK would describe their skin as sensitive and have to purchase specific products that are made with their skin type in mind, making Mammoth wipes accessible to people who suffer from sensitive skin.
Standard Wet Wipes and Our Environment 
Unlike standard baby wipes, Mammoth wipes are made with bamboo material, making them much more sustainable and better for the environment. Many customers look for environmentally friendly products, making these wipes perfect with their biodegradable materials, ensuring the environment is protected whilst being a helpful, well working product that customers love. 
Standard baby wipes cause tons of trouble in wastewater symptoms, and can find their way into oceans harming both sea pollution and sea life that have to survive in our oceans, with long-term problems for them. Plastic pollution is a huge problem which is added to constantly by disposal of baby wipes, and in 2017 they made up to more than 90% of the material that caused sewer blockages that were investigated by water UK. They contain harmful chemicals, non-woven blends of synthetic fibres. Because of the materials they will not be biodegradable enough to be flushed down toilets as they can't degrade that quickly and quickly adds build up to our sewers, even though many claim to be flushable it just means the plastic breaks into smaller pieces, larger pieces of these become choking hazards for wildlife, and to top it off the packaging is completely recyclable!  This is why Mammoth wipes are such a great change to how wipes are created and used, making a huge change to the industry and our environment.  
Customers have described the wipes as a 'fantastic product', that makes them feel 'fresh and clean'. One customer, Ellie Hill said that the wipes were able to "remove 95% off the mud". They have also been called 'safe' on the skin and fantastic add ons to peoples OCR kits. 
Mammoth Wipes – Safety and Support Projects UK
Our support to the homeless project
The company is ethical with not just the environment but people too, helping the earth and the humans using it. Mammoth wipes supports the homeless community and donated packs to the homeless project to offer support and cleanliness to those in need. The homeless project is funded by councils to help out local homeless people, and improve their quality of life by offering them support, which they have done for over 25 years. Cleanliness is a huge issue for the homeless population, by supplying these wipes it helps many people suffering on the streets stay clean and keep up personal hygiene during such a tough time. When purchasing Mammoth wipes there is an option at the checkout to donate a pack of wipes (or more) to the homeless project, and help out with the campaign. For each pack of wipes brought when the donation option is used another one pack of wipes will be donated too allowing two wipes to be out in the community helping out people in need of cleanliness. The aim is to keep expanding and working with different homeless communities to try and keep as many people as possible on our streets clean, whilst protecting our environment, currently Mammoth wipes are working closely with two organisations and in total are hoping to work with 5, and are seeking more that they could donate to. 
Wipes have so far been supplied to the following homeless organisations:
3 Pillars Feeding The Homeless
This trust was created by Mick Pescod and Ged Dempsey from the Province of Northamptonshire and Huntingdonshire, who are currently taking applicants from people who are willing to assist in the charity's hard work for the homeless community. 
Originally they started with trail runs at a car park in Brewery Tap in Peterborough on Tuesdays and Thursdays, and within 8 weeks this allowed clothing and bedding to be offered to over 60 people, not overall but per night! Eventually the charity wants to increase the frequency and offer support across the Provenance once they can confirm the model works and can be fully supported. 
Homeless Hope
Homeless Hope is an independent group of qualified nurses who have set up a voluntary street clinic along with a 24 hour sleep out which allowed them to discover that services were available for the homeless, but they rarely reached outside of the city centre in Cardiff for people to attend. Many of the homeless were struggling with trench foot and other pain inducing conditions, making life on the streets even more uncomfortable for them. The service started in Cardiff and now runs in Newport and Swansea too with the hope to develop in further cities! The nurses perform basic foot care, add dressings to wounds and encourage the homeless to visit and make use of services that have been set up for them to allow them to maintain good care of themselves. Every 4 weeks they will visit the city centre and hold a foot health day, alongside handing out any donations they have received to aid those in need. 
Pet Safe Wet Wipes
The muddy paw prevention team is a part of Mammoth, and they have created the friendliest and largest wipes possible to aid your precious paws. Mammoth Wipes are an easy way to clean dirt and mess from your animals whilst being safe and eco-friendly. 
Mammoth wipes are perfect for all ages, skin types and animals. They are compact, sustainable and donate to charities that support our homeless population. They are a great alternative to standard, environmentally harmful wipes and the most ethical brand of wipes to use!
How To Buy Mammoth's XL Biodegradable Wet Wipes In The UK?
Head on over to our online store to purchase a pack of these awesome antibacterial biodegradable, XL body wipes today or head on over to our online store for more information about our wet wipes.