Mammoth Wipes-Helping the homeless
Here at Mammoth wipes we believe that we should help those less fortunate than ourselves so when we got to thinking about how we could do this it was obvious that the homeless community could be an area where our wipes could help.
Without the ability to shower or wash homeless people have a daily struggle to keep clean and baby wipe washes are their only real option. By donating wipes it meant that not only did we reduce the environmental impact of all those wet wipes being used but that we helped a forgotten area of our society.
We have therefore introduced a donate button on our site where you can donate a pack of wipes to the homeless when you purchase and to make that donation go even further we will match your donation so if you buy 1 pack we will donate a pack.
We have identified 2 organisations so far that we will donate wipes to however we are looking for more so if you work for or know of an organisation that helps the homeless and would appreciate Mammoth wipes then please ask them to email our sales team on sales@mammothwipes.com for consideration to this program. Initially we are looking for around 5 organisations based throughout the UK to work alongside but hope to expand to more once the volumes increase.
So Far Wipes Have Been Supplied To These 2 Great Organizations
3 Pillars Feeding The Homeless
The 3 Pillars – Feeding the homeless Trust' was conceived by Mick Pescod and Ged Dempsey – Freemasons from the Province of Northamptonshire and Huntingdonshire. This Charity is run by Freemasons and is a Masonic Charity but friends and anyone who would care to assist are very welcome to join us – Charity status currently being applied for.
Initially, we undertook a number of trial runs at the car park of the Brewery Tap in Peterborough on Tuesday and Thursday evenings and after 8 weeks we now feed and offer clothing and bedding to over 60 people per night.
Our vision is to expand this project geographically and increase the frequency of the support across the Province but first we need to make sure that the model works and can be fully supported.
https://www.facebook.com/groups/193804767739323/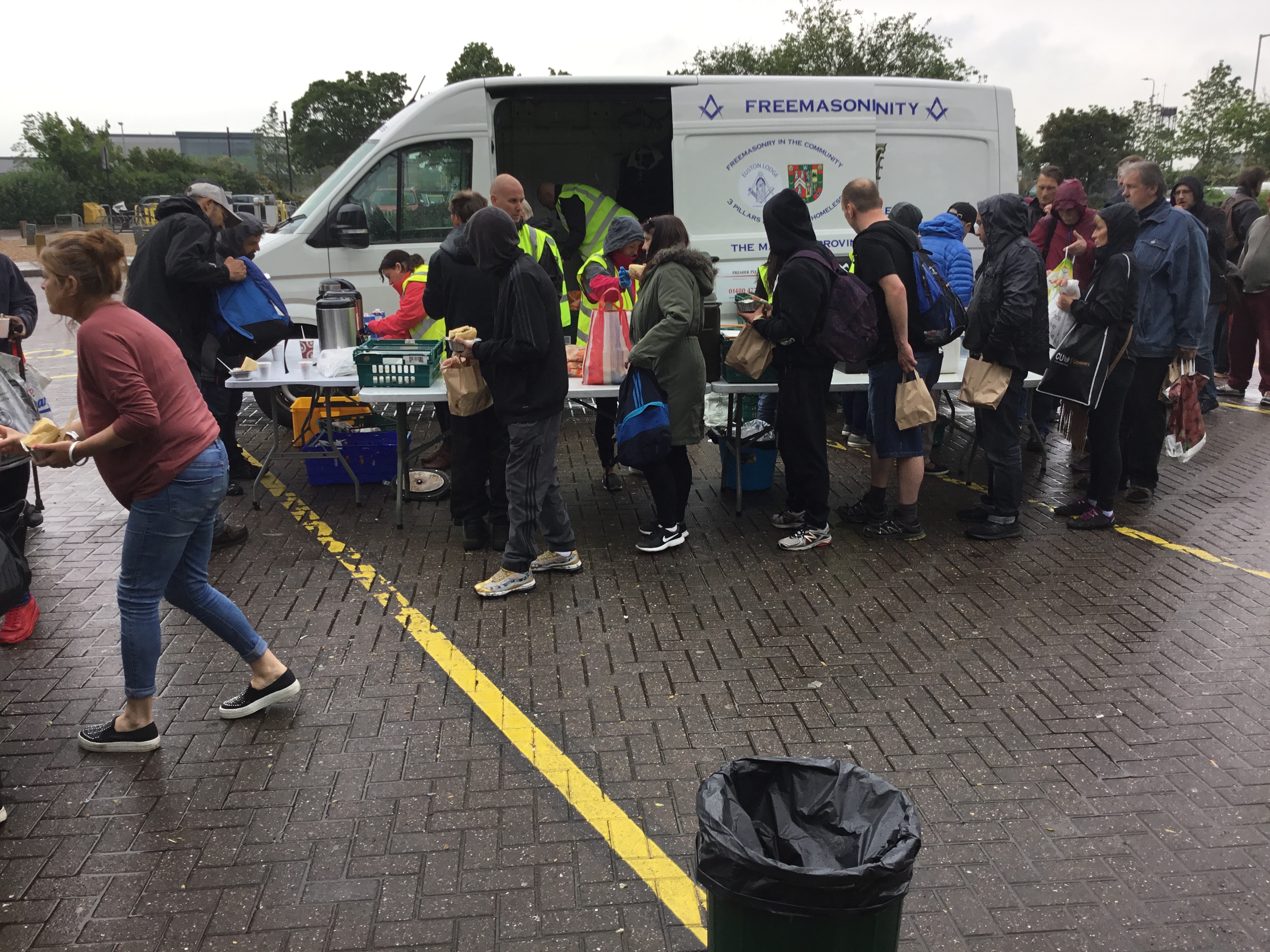 Homeless Hope
Homeless Help are an independent group of predominantly qualified nurses who set up a voluntary street clinic following a 24 hour sleep out where they discovered that although services were available for the homeless they rarely ventured out of the city centre in Cardiff to attend. Some of the homeless were suffering trench foot and other painful conditions. The voluntary service started in Cardiff and they are now set up in Newport and Swansea also with a view to develop in other cities. Qualified nurses perform basic foot care and wound dressings and encourage the homeless to utilize the services all ready set up to maintain good care. They visit each city once every 4 weeks for a foot health day and give out any donations they have collected and see to their feet. In Cardiff where they initially established  themselves they are seeing better compliance in people attending clinics and have built a good rapport with the homeless and they now attend on a more regular basis.
https://www.facebook.com/groups/282821565683212/